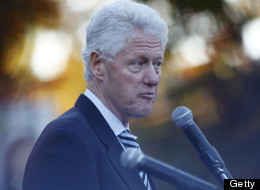 (Huffington Post) Former President Bill Clinton might be having a good time abroad this week, but that sentiment is certainly not being shared by everyone in his presence.
Attendees of a Clinton Foundation Millennium Network fundraiser held Tuesday at the Old Vic Tunnels in London had serious complaints about the event, with one person giving it the highest dishonor of "worst party ever."
A brand new way to see New York: New York Pass
According to the Daily Telegraph, hundreds of ticket-holders who had paid between around $200 and $1,500 to rub elbows with celebrities and hear Clinton speak about climate change were forced to wait outside for hours.
High-profile guests such as actress Gwyneth Paltrow, model Lily Cole, entertainer Will.I.Am and Princess Beatrice of York weren't among those asked to wait.


When the party-goers finally did get inside the converted railway tunnel venue, the scene wasn't much better.
"We arrived, there was perspiration dripping off the walls and the place absolutely stank. It was like walking into a cave," a source told the Telegraph. "Bill Clinton only spoke for about two minutes and was basically inaudible. He was at the end of a very long, very crowded room and the acoustics were terrible."
News Source:
Huffington Post